The Hotel overview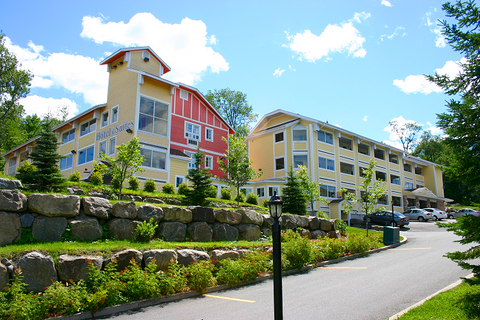 Three storey building (no elevators)
Common outside corridor
Bilingual staff
Standard rooms and spacious jacuzzi suites
All rooms feature kitchens with full ranges, refrigerators microwaves, coffee makers, toasters, dishes, glasses and cutlery.
Remote controlled 27 inches television + cable
High speed internet connection
Full bathrooms with hair dryers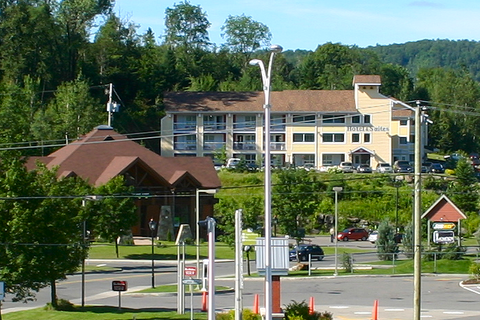 Free local telephone calls
Air conditionning
Located within 60 miles of Pierre E. Trudeau Airport
Within walking distance of major attractions:Ski hills, Aquatic park, Theatre
Next to Factory Outlets :Jones New York ,Tommy Hilfiger, Rockport,Reebok, Kodiak, Guess, Nike, La Vie en Rose etc
Special packages available at local ski resorts, Spa (Polar Bear's Club)
Aquatic park Mont St-sauveur, Golf Courses
Conditions
All reservations require a guarantee by credit card.
At registration you must submit:
License
A credit card
A deposit may be required.
Access to the hotel
Closed from 12.00 am to 8.00 am
Check in time: 4.00 pm

Check out time: 12:00 (noon)
Cancellation policy
48 hours before the date of the stay.
This policy may vary for holidays and during peak periods
Standard room
Occupancy 1 to 4 persons Room size approximate 12' x 24'
1 or 2 queen size beds
Kitchens with full ranges refridgerators microwaves, coffee makers, toasters, dishes, glasses and cutlery
Remote controlled 27 inches television, cable access
High speed internet connections
Full bathrooms with hair dryers
Free local telephone calls
Air conditionning

Information and Reservations
Tel: 450-227-4628 toll-free: 1-888-223-4628